APlant Hire's LI-90 range are aluminium trench shields suitable for various works including but not limited to; trenching, subdivision works, welding boxes, boring, pipe laying and pits.
The LI-90 range are an ideal trench shields for contractors using back hoes or smaller excavators from 5.0 tonne to 12 tonne. All models are available with a full range of spreader bars up to 5000mm wide, wider strut widths available pending engineers' approval.
GOOD FOR PIPE LAYING AND EXCAVATION WORK. LIGHT WEIGHT, GREAT STRENGTH!
LI-90 Shields meet the Australian Standard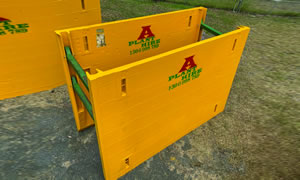 LI-90 Shield Specifications
Panel Type
Panel
Length
Panel
Height
Safe Working
Load (kPa)
Panel Thickness
Under Strut
Clearance
Internal Clearance
Strut to Strut
Total unit weight incl.
1000mm struts
Lower
2000mm
2400mm
70kPa
90mm
1350mm
1700mm
695kg
Upper
2000mm
1200mm
70kPa
90mm
n/a
1700mm
420kg
Lower
2400mm
2400mm
60kPa
90mm
1350mm
2100mm
780kg
Upper
2400mm
1200mm
60kPa
90mm
n/a
2100mm
520kg
Lower
3100mm
2000mm
60kPa
90mm
950mm
2800mm
737kg
Upper
3100mm
1950mm
60kPa
90mm
550mm
2800mm
778kg
Lower
3600mm
2400mm
43kPa
90mm
1350mm
3300mm
978kg
Upper
3600mm
1950mm
43kPa
90mm
550mm
3300mm
870kg